I fell over this comparison of UMPC's in sunlight.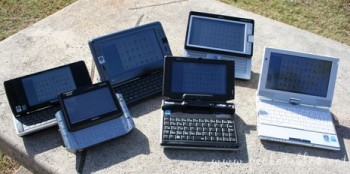 Unfortunately, the Asus Eee PC, MSI Wind and Acer is not one of them – so it's not that interesting. But are you in a purchasing thoughts on UMPC market and want something stronger than our dear, small netbooks, it might be interesting for you then to check the possibilities for outdoor use here.
http://www.pocketables.net/2008/08/umpc-display-co.html
This post is also available in: Danish
Kunne du li' indlægget? Hvorfor ikke lige skrive en kommentar nedenfor og fortsætte samtalen, eller tilføje mit feed og få artikler som denne leveret automatisk til din feed reader.