Are you looking for those a little bigger netbooks/mininotes?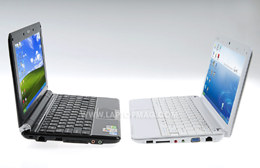 In other wise 10 inch screen, you check the reviews I stumble upon, in here Asus biggest netbook Asus Eee PC 1000H vs. MSI Wind. Specification is a bit similar and just the same for the price. Yet there are differences between these 2 machines, which pull a victory home for the MSI Wind according to the reviewer.
Note: Currently in Denmark, only the Asus Eee PC 900 and Asus Eee PC 701SD that is in the market, so Asus Eee PC 1000H must be imported from England, which is very easy to do. So if you are considering on getting one, you should read the reviews here:
http://www.laptopmag.com/review/laptops/eeepc-wind-faceoff.aspx?pid=5
This post is also available in: Danish
Kunne du li' indlægget? Hvorfor ikke lige skrive en kommentar nedenfor og fortsætte samtalen, eller tilføje mit feed og få artikler som denne leveret automatisk til din feed reader.