Asus Eee Top looks pretty cool – both ind esign terns and in terms of prives and setup.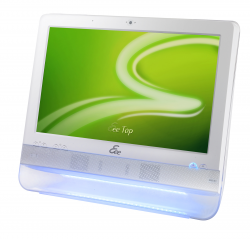 It builds on the Eee hardware, so it's not exactly a powerhouse, like Asus Eee Pc, or other netbooks for that matter. But then it costs only Dkk 5000.- for a complet setup with 15 inch touch screen with built in PC and smart mouse/ keyboard. So you can begin to dream of a kitchen machine or the familys message bulletin board in a digital way.
Specs on the Asus Eee Top is:
1.6 GHz Intel Atom N270
Windows XP
15.6 inch touch screen with opløsnign 1366 × 768 px
1.3 MP Webcam
Intel GMA 950 graphics chip
1 GB RAM
160GB hard drive, 5,400 RPM
802.11b WiFi
External power connector
Power consumption idle / load: 35/37, 9 watts
PCWorld has written a loner review in which they write:
"Niche Product or trivialized?

A final assessment of the Asus Eee Top is difficult to reach because the computer sits between 2 chairs. On the other side the Eee top is somehow half- hearted bid for a touch screen PC, where you at a pretty interval experience frustrations when you are forced to keep a keyboard and a mouse in hand. In addition to the obvious hardware limitations, which means that the PC is suitable for very basic needs.

Showing good stroke

If you and your family already owns one or two computers, the Eee Top, can however be a good entertaining and unusual extension to It equipment in your home. But otherwise, there is a good reason to let your eyes dwell on alternatives to nearly the same price that's offer better expandability and horsepower.

We reward Asus Eee Top with a 3 stars as it is an average product without all the big arm gestures. The touch- sensitive computer displays good qualities for the price, and more complete user interface in the future might mean that HP must take competition very seriously. So far Eee Top remains nevertheless a very interesting PC supplement that appeal to a very limited audience."
This post is also available in: Danish
Kunne du li' indlægget? Hvorfor ikke lige skrive en kommentar nedenfor og fortsætte samtalen, eller tilføje mit feed og få artikler som denne leveret automatisk til din feed reader.