Dell has (like all the other PC manufacturers) plans to take a bite of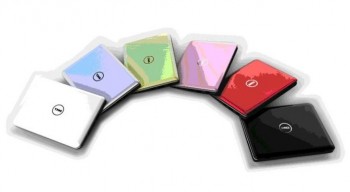 Asus Eee PC/ netbook market. Their bid is Dell E. I won't even comment, but I quote from Engadget "Eeenteresting" for the name choice.
The Specifications are as good as (and after a while much boring) as all the other netbooks- 8.9" TFT display at 1024 x 600 ½ or 1 GB of RAM and SSD. Dell wrote that the machine comes with Intel Diamond Ville CPU, but you should not get confused- Diamond Ville is just a code name for Intel Atom- which is exactly found in the MSI Wind and Asus Eee PC 901. Other details, it's the details that separate the machines from each other, which is in the market right now. Dell separates a bit from the other competitors, depending on what model you choose: Bad webcam (only 0.3 pixels), a battery that resembles between the existing poles, which is 4 cells (most netbooks are with 3 or 6 cells so far) Bluetooth and WiFi are included – and as an interesting variation, all the indications that the machine can be selected with WiMax support, if you are into stuff like that. In additional Dell Eee- clones comes with quite few different colors.
The most interesting ( and the thing that really separates Dell's Eee – clone) is that Dell may be coming up with BlackTop- which is a SplashTop clone (perhaps they should come up with better names, so cloning is a little less obvious) SplashTop is (almost an instant on) operating system that quickly gives you access to the simple functions after starting it, such as Web Messenger, Skype and email. You see it will be a very welcoming creation.!
For whatever reason (price reduction?). Asus has not included it in their current Eee PC's – however it is in the Asus Eee Box. We should keep in mind that Asus can manage t launch mew models faster than Dell, and finally Dell will launch their new model in September, therefore the speciofications is no tyet exactly defined. So if Asus sees it as a threat, there will soon come an Asus Eee PC 907 SplashTop – Edition netbook on the market.
Dell's upcoming series is also 2 fold, as they also have plans to launch portable 12 – inch Dell E Slim – but then we are out of the netbook market and even in a more traditional (probably very thin) Subnotebooks.
Well welcome to Dell: more Eee – clones are coming up from the drawer from all netbook manufacturers. The advantage is there is an increase of competition, and you can have your upcoming netbook from your usual favorite brand. Hopefully there will be soon who will find a variety- with a better screen resolution than the ordinary? Although the market is first booming now, there's been micro- portable advanced in many years, so it should be possible to find something new instead of just cloning the Asus Eee PC…
This post is also available in: Danish
Kunne du li' indlægget? Hvorfor ikke lige skrive en kommentar nedenfor og fortsætte samtalen, eller tilføje mit feed og få artikler som denne leveret automatisk til din feed reader.