Asus's small and popular desktop PC called the Eee Box is still back order in Denmark,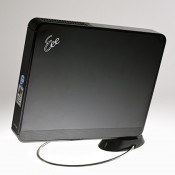 when we talk about the new models named Asus Eee Box 240 and Asus Eee Box 206TH. The old model Asus Eee Box 202 can be found in many places.
To those who don't know the Asus Eee Box, it can be noted that this is not an ordinary desktop PC, but what is called a nettop. A counter part to the netbook compared to a normal ordinary netbook or laptop PC. Asus Eee box built with m any components as known from the Asus Eee PC and you will have a very small and incredibly powerful and efficient PC, but does not have the world's wildest powerhouse when you are talking about pure performance. The hard drive consists among other things the well known Intel Atom 1.6 GHz CPU, 160 GB hard drive, 1 GB RAM, card reader, LAN, wifi / wireless network card and Windows XP operating system.
You should not buy Asus Eee Box because it plays the newest and latest games, making lots of heavy video editing and perhaps not even Photo shopping, if you are an impatient person or have very heavy images to work with, this is simply too slow for you.
Asus Eee Box is perfect contrast to many other things. Imagine a single server in the house, such as file and print server will the Asus Eee Box 202 work perfectly. It is not noisy, and it is environmental friendly, it is also a great fit for your wallet, for a PC to run "24 x 7×365 (as they advertise in the old days) are nit using as much power.
With the Asus Eee Box's 16-19 watts of power you can get for under 300 GBP a year by always having it switched on. Also as a back-up server is very fitted, though the hard disk capacity of 160 GB maybe slightly below, and one (power saving 2.5") USB hard drive beside. The Eee Box will soon need. Asus Eee Box 202 can be set on the market for 2000 kr. If we are lucky, but that is actually phased out, so when the last one is sold out, don't expect there are more batches to come from Asus.
Asus Eee Box, because of its small size can be stores everywhere, and even perfect for such kitchen PC setups and many other fun projects. The Asus Eee Box other than the use of energy also comes with lots of advantages. First it can be installed after the VESA standard, for example it can be placed behind the flat screen and partly Eee Box comes with express Gate (also called Splash top) an instant on, OS or operating system, which more or less to use once you turn the Eee Box on. It is very Stripped down operating system that instantly allows you to chat, see photos or move files, use skype or go online via a browser and check mail, surf the web and so on. You can for example be busy and just need to check bus schedules. Asus Eee Box machines will "naturally" also with Windows XP, you can also wait the usual time to start your known OS instead.
The difference from an Asus Eee Box 204 and Asus Eee PC 206 is its little sister Asus Eee Box 202 is the graphics card. (the official model names are not 202, 204 or 206 but Asus Eee Box B202" "Asus Eee Box B204 and Asus Eee Box B206 where the B probably stands for BOX.)
How come Asus only comes with onboard graphics card with shared RAM (intel GMA 950 graphics) where Asus Eee Box 204 and Eee Box 206 comes with real graphics card: ATI Radeon HD 3450 with 256 MB DDR2 RAM. A total upgrade! This is a great upgrade, Asus reportedly developed clay their drivers, so the graphics card make a little more tasks from the CPU than you normally see on defaults. Whether it has anything unknown on it, but it seems reasonable enough since Intel Atom CPUs (like almost netbooks / mini int also use) so very weak compared to today's standard, for example Core 2 Duo. In additional, the Asus Eee Box 204 and 206 gives the pleasure of upcoming with HDMI connector the CAN hardly be easier to connect the new Eee Box's to the TV! Both Asus Eee Box 204 and Asus Eee Box 206 also come with a remote control.
As the quick reader have noticed long time ago that the Asus Eee Box 204 and Asus Eee Box 206 with their dedicated graphics and HDMI connector with perfect candidates to operate the family media center PC/HTPC!
The Eee Box does not come with any TV tuner, so in order to cooperate in its Media center ?PVR you must buy a TV tuner and it must be the USB ones, since there is obviously no room for PCI card upgrades in the tiny Asus Eee Box. Moreover there is an anecdote evidence that the machine are not optimal for HD material where it is possible for ordinary HD but when you get up in Full-HD is starts extremely low. If you can manage without Full- HD should these boxes be excellent for that purpose.
Asus Eee Box 204 is currently at on an estimated price of Dkk 3200 – while the Asus Eee Box 206 is available for Dkk 3000. What do you get to throw an extra Dkk 200 on the table? A couple of quirky features, as some would put very much appreciation and others cold hardly care, like Bluetooth and ( and yeah Bluetooth for me could be wise to have but otherwise) a battery. Yes its true, Asus Eee Box 204 comes with a built battery that can last for "up to" ½ hour. Most will probably say that it is limited, because this is a desktop, you should not see it as an actual battery solution but as a UPS solution, the battery can only be used when it comes to power failure. OK, the screen turns off anyway when you have no power supply, but when you record a lot form TV or if you live in Cuba where black out is constant, it could be important to have the battery for your Asus Eee Box.  Asus eee Box is certainly a very exciting machine, which I could use for many exciting projects!
This post is also available in: Danish
Kunne du li' indlægget? Hvorfor ikke lige skrive en kommentar nedenfor og fortsætte samtalen, eller tilføje mit feed og få artikler som denne leveret automatisk til din feed reader.