Asus has revealed a little about the future of their Eee PC model range.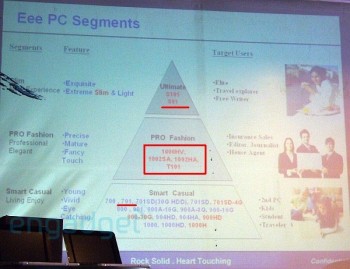 As you know the series is a little crowded already with its approximately 11 different models, but before the is year is over, Asus expect Eee PC series will have approximately 23 different models! The models are designed to target different segments of the market and will divide 3- sharing model series on Smart Casual, Pro Fashion and Ultimate. See the pictures here, that shows the whole strategy at trustedreviews.com
Smart Causal– there's not much new here, it will actually be the name of the current series, but there will still be new upcoming models.
Ultimate and Pro Fashion – will be more high end machines with dual Atom CPU (the current Atom CPU runs only single core, so we have to wait for the Intel manufacturers to produce dual core Atom, before we get to see them on sale) Moreover. They will be 10.1 " screen and bigger disks – whether model numbers a la: Asus Eee PC Ultimate: S101 and S91, Asus Eee PC Pro fashion: 1000HV, 1002HA, 1002HA and T101. Beautiful- we are back in the happy 90's when it comes to names.
The biggest disadvantages is of course the price – the Asus Eee PC started out as a small, cheap travel subnotebooks, but we are now approaching the major change in prices of the "ordinary" subnotebooks. The series is small to from being "netbooks" to be "ultraportable laptops". But will probably get what you pay for – the question is just about whether you pay for what you need. My initial assessment is that if you work on tasks that requires "intense" processing power, it is still very rare that you would want to sit and work with subnotebooks.
Sources: DigiTimes and i4U
This post is also available in: Danish
Kunne du li' indlægget? Hvorfor ikke lige skrive en kommentar nedenfor og fortsætte samtalen, eller tilføje mit feed og få artikler som denne leveret automatisk til din feed reader.