I stumble over a Danish review of the Asus Eee PC 1000H – which is the "biggest" Asus Eee PC in any many ways right now.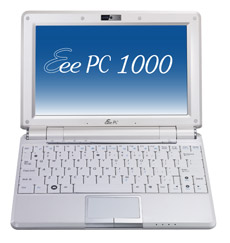 The opinions regarding the Eee PC 1000H – not because of the specifications, which are excellent, but because the machine is after a while getting heavier and bigger (10 inch screen and 1.45 Kilo) that some believe that it no longer forms a UMPC/netbook/mini-note but is more like an "ordinary" subnotebooks. Personally I think netbooks should be 11 inch and should weight under 1.5 kilo. (several other netbooks will come close to this limit in the future) but it is not exactly a fixed definition.
1000H can be bought in Denmark right now, but it must be imported from for example UK. (it is a good idea to get your machine back from EU-countries – so you will not have to handle the hassles with the custom tax. If you want to but it from USA you can get both duty and VAT included. I am not quite sure how much it will cost you on tax when it comes to electronics/computers – it can be somewhat from 0-30% – you have to research that on your own, if you are not satisfied buying form EU- countries.
Read the positive full review on Tweak Up.
This post is also available in: Danish
Kunne du li' indlægget? Hvorfor ikke lige skrive en kommentar nedenfor og fortsætte samtalen, eller tilføje mit feed og få artikler som denne leveret automatisk til din feed reader.