Like all other notebook manufacturers have Fujitsu course, their own Asus Eee PC killer.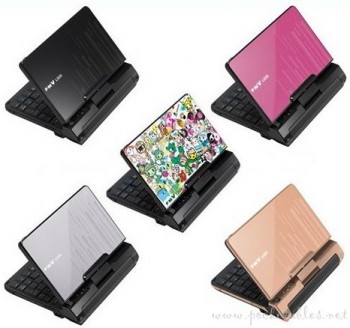 And of course with some cool Japanese twists! In Europe they probably call it U2010 while the Americans will call it LifeBook U820 and the Japanese calls it LOOX U/B50N.
The Machine is now on the market in Japan (like so much else we can't get it here), and has all the usual specs with Intel Atom CPU and 1GB Ram and so on. Unlike other Eee killers/netbook, this mininote comes touch screen, that can be turned so it can be a mini tablet PC. The screen is small 5,6 inch but have 1280x 800 pixels. The operating system is Windows Vista. Battery life is given from 5 to 11 hours, depends  on how you run the standard or advanced. On appearance Fujitsu's machine also differs from the other Asus Eee PC clones. The Japanese can otherwise buy it as "build to order" and can be ordered with TV tuner. And hey wait a second while I am emptying my keyboard for saliva…
Nice!
Everything differs from the Asus Eee PC, MSI Wind and the other gang. Unfortunately we don't know if it should come at all, and how we are able to afford it. For there was an indication that the price to compete with cheaper netbooks. Is a wild machine something for you or is too overkill?
See info about "the original" here and launching here
This post is also available in: Danish
Kunne du li' indlægget? Hvorfor ikke lige skrive en kommentar nedenfor og fortsætte samtalen, eller tilføje mit feed og få artikler som denne leveret automatisk til din feed reader.