Rumors of new Eee PCs with bigger keyboard: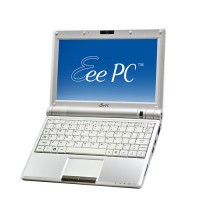 Asus is out again with the new machine so quickly that is impossible to follow. Maybe they are trying to saturate the competitors so they have a harder time getting a foot in the ground?
The existing model and " up coming models" includes the 700/701 (4G/8G) 900, 901, 1000, 1000H and Eee PC 1000HD besides Eee PC  Box (mini desktop PC) in another genre.
Now the rumors is that there are a few new models on sight: Exactly, with full model names Asus Eee PC 903, Asus Eee PC 904 and Asus Eee PC 905- where the previous mentioned will be called the Eee PC 900A instead. 904's are already found with an edition with HD and Windows, it is 904HD, look at Asus Tek's website.
The rumors have been mixed, but according to Asus's website 904HD's, it seems that the model comes with the "middle"screen at 8.9" with 1024x 600 resolution and Celeron CPU's (although the newest models now come with Atom CPU that is faster and more Efficient). The other rumor is that the latest expansion to the series primary have a goal to sell the "cheap" 900- model in a slightly larger cabinet as a way to get a slightly larger keyboard – just because it has been a criticism from many users (they are simply too small for a person with sausage fingers or even oven glove look) it also seems that Eee PC 904 is choked on some other characteristics, not the least the webcam. So the rumor that this is going to be a cheap model is probably right!
But hold the thought a second, Asus sends a lot of news thing out- it is becoming more confusing series now!
See all the video of pre-production model of 904's here
This post is also available in: Danish
Kunne du li' indlægget? Hvorfor ikke lige skrive en kommentar nedenfor og fortsætte samtalen, eller tilføje mit feed og få artikler som denne leveret automatisk til din feed reader.