Asus has always been good in building laptops and even in a fair and reasonable prices.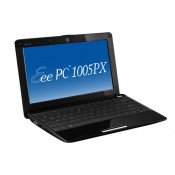 One of their new models,
the Eee PC 1001PX as inspired by nature – it's seashell design series inspired by shells, precisely because of its compact and light weight and smooth lines.
If you are looking for a cheap netbook, that still has all the essential features and functions as other netbooks, ASUS Eee PC 1001PX is one of them you should consider buying, ASUS Eee PC 1010PX, has the functions and features that you will appreciate and it comes in different colors.
Netbook ASUS Eee PC 1001PX has attractive designs and are lightweight and compact. It is available at a reasonable low price.
I will go into a greater detail with the ASUS Eee PC 1001 PX features and specifications.
Let's look at it here:
Asus Eee PC 1001PX comes with an OS which is Windows 7 Starts or Windows XP Home Edition and also or Express Gate OS. The last mentioned is a system for fast startup, where you just get the most basic functions. It is smart if you just need to check something on the web and will not have to wait for it to boot up from scratch (if it has been switched on to sleep mode).
Processor
Like the other new netbook, the Asus 1001PX Seashell is powered by Intel Atom N450 processor(1.66 GHz),  So a reasonable standard.
Display
Asus Eee PC 1101PX has a 10.1 "LED backlight WSVGA ante glare screen (1024 x 600). Standard size, It is fine that it is LED, and SUPER COOL that there is finally a (cheap) machine on the market without the glossy screen. (Confirm like if you have the machine that fits- is it with a lovely matte screen?)
Flights
Asus Eee PC 1001PX comes with a WLAN 802.11b 4GHz and BluetoothV2.1* EDR there is no Wireless N connection specified for 1001 PX Seashell.
Keyboard
Asus 1001 PX comes with a keypad similar to what you see in Seashell 1005HA model. This keyboard is very well designed considering ergonomics, so one can not find much better keypads on netbooks.
Memory
Standard 1GB DDR2 memory, upgradeable to 2 GB, and it is also a great idea to upgrade, it will give a little more effort so it won't be too slow.
Hard Disk and Storage
Asus Eee PC 1001 PX can be ordered with a SATA 2.5 "160GB hard drive or a 250GB, both of which have spindle sppeds of 5400 rpm.
Audio
Asus Eee PC 1001PX comes with a built in High Definition Audio CODEC, high quality speaker and built in microphone with a fairly good sound, that's according to Asus itself. In general, you will never get a good sound out of built in speakers on a netbook.
Input/output
Asus 1001 PX firefly comes with
1x VGA connector
2x USB 2.0
1xLAN RJ-45
1x Audio Jack (headphone.Mic-in)
Card reader MMC/SD(SDHC)
-So it is approved
Battery
Asus Eee pc 1001 PX typically comes with 3 cell battery, 2.2h/cell, 23 WHR can provide a battery life time up to 4.5 hours.
(Also available with 5 cell 2.2AH/cell, 48WHR which can provide power to 1001PX up to 9 hours. It is however IT IS NOT WHAT YOU GET, when you choos the cheapest ASUS Eee PC 1001PX netbook, you can find for example on EDBpriser).
Dimensions
262 (W) x 178 (D) x 25.9 ~ 36.5 (H) mm
Weight
1.1 Kilo (with 3 cell battery) it's very light
Colors
Black, White, Blue
Where to buy Asus Eee PC 1001PX? Is probably your next question.
You can as you already know choose to buy it online or at your local electronic store – check out EDBpriser.
Asus has not only Eee PC 1001PX out on the market, they also have a similar model called Eee PC 1005PX, now you want to know what's the difference between these 2 Asus netbook models. Besides the name, there are other features on Asus Eee PC 1005PX.
Here go to on with the specific details and compare the 2 models.
Eee PC 1005PX is "another pretty small seashell that ASUS has washed up on the shore" that is still a machine from firefly series.
Like the Asus Eee PC 1001PX the Eee 1005PX also available in many different colors. The appearance is almost the same if you don't look carefully, you would think this is the same model. However, the Eee PC 1005PX has more colors available such as Pink as the Eee PC 1001PX don't have.
Specifications on Eee PC 1005PX and Eee PC 1001PX is almost similar – of course they both can use Windows Xp and Windows 7, etc. The Asus Eee PC 1005PX often comes with the OS Windows 7 (standard configuration), while the Asus Eee PC 1001PX as the cheapest model usually comes with Windows XP.
Further more, there is a slightly a bigger Hard drive as standard( 250gb instead of 160) and MUCH beter battery lifetime on Asus Eee PC 1005PX, it comes with standard 6 cell battery. This is why it is a little bit heavier and thicker. 1.27 Kilo and a little bit thicker
What should you choose?
Yes, now it becomes difficult. As the best deal I personally prefer the Asus Eee PC 1005PX for better battery lifetime, as it is important when you are travelling it is exactly a netbook that you can use.
This post is also available in: Danish
Kunne du li' indlægget? Hvorfor ikke lige skrive en kommentar nedenfor og fortsætte samtalen, eller tilføje mit feed og få artikler som denne leveret automatisk til din feed reader.