Asus is ready with another news in the series of Asus Eee PC netbooks.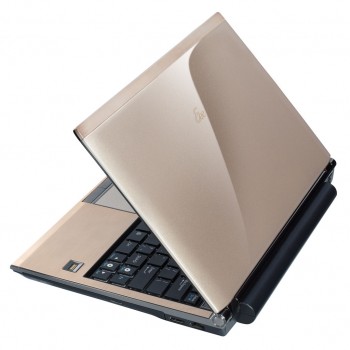 This time it's a model that is a bit different than we are used to in the series of mini-notes, the Asus Eee PC 1004DN. What makes the Asus Eee PC 1004DN different from for example Eee PC 1002HA or 1000HE is not the screen size, CPU or RAM, it is that we are already used to everything from Asus Eee PC 1000H for Asus Eee PC 1008 HA with 10" screen, Intel Atom CPU at 1.6 GHZ (there may be a little difference between these Atoms- but the performance is almost the same regardless, it is a N280 model) and with the 1 GB of RAM.
It is very exciting news that this netbook comes with optical drive and a brand new chipset. Intel GN40 with integrated graphics X4500M. The graphics should certainly be faster than the GMA 950 graphics cards we know from all other netbooks, not as good as all Eee PC's.
Some sources say that this graphics card is powerful enough to help slow Atom CPUs to actually pull HD contents. Actually I really don't think that many people have HD materials on their machines, but it is nice to have the opportunity, and also have a good limit to have for how much a PC actually provides. And with this news you can you can have Asus Eee PC, that crosses the line.
According to the reputation this Asus Eee PC 1004DN should have an excellent keyboard, which the size is 92% compared with a full keyboard and the layout is MacBook style, example the spaces between the keys. There is a fingerprint reader, which some businessmen will appreciate. The screen is matte like, which most appreciate because the glare issue is less of a problem. It is also extremely rare to see on a cheap laptop for some reason, but as for now we still don't have a price yet.
And it gets more exciting! For the comfortable low price, this is a really good example of a fine machine, though the lack of optimal drive (DVD drive) I have personally experienced have held back several buyers of netbook! BUT you can already fear that the price of this will be at a high-end as well and then it will probably never get a best seller, because this is a netbook that needs improvement with chipset and graphics card so that it will reach a performance you know from an ordinary laptop – and many have chosen this item for its low price. On the other hand there is also a bunch of good netbooks for something more, which is completely different than a normal and average laptop.
But then the question is whether they need the DVD drive in their Eee PC. My guess is that this is a pretty small niche.
I can assume that there will be an 11.6 model out of these machines for not so long. Since it seems to be the new trend, as we approach, probably even more ordinary laptops – not only the price, but unfortunately also for the form factor. Let's see, we don't even know when this Eee PC or 11.6 inch model will show up in the country yet.
Read the English reviews here
This post is also available in: Danish
Kunne du li' indlægget? Hvorfor ikke lige skrive en kommentar nedenfor og fortsætte samtalen, eller tilføje mit feed og få artikler som denne leveret automatisk til din feed reader.