ASUS EEE PC: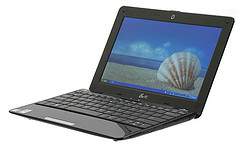 Yes, it is true. It is not a Biker related markets, this is about, but rather about stores for netbooks. There has been a discussion, that Asus HA products is going to take over Asus market for their Eee PC netbooks. The old favorites like Asus Eee PC 1000H, Asus Eee PC 1000HE, Asus Eee PC 901. These products will soon phase out from the Danish market and the HA line will take over in particular these models :
Asus Eee PC 1008HA ( the small smart slim model, but with a shorter battery life.)
Asus Eee PC 1101HA (which is Asus bids on an 11" netbook, the 11" netbook will be the new black design. Unfortunately, this is with a downgraded CPU, which makes the machine slower than what we are used to, probably to save battery life or comply with Microsoft aspirations to XP's will not be sold with netbook discount if these netbooks are too heavy.
Asus Eee PC 1005HA ( the ordinary model with super good battery life if you get the 6 cell model)
And many more other HA models.
Whether this is just a rumor or ASUS in Denmark or Scandinavia will really clean up the old models and import HA models, but time will tell. The fact is however that it some time before the stocks of old Asus Eee PC are cleared out.
This post is also available in: Danish
Kunne du li' indlægget? Hvorfor ikke lige skrive en kommentar nedenfor og fortsætte samtalen, eller tilføje mit feed og få artikler som denne leveret automatisk til din feed reader.