Asus announced a new Eee PC models on the market as bad as a shit from a calf.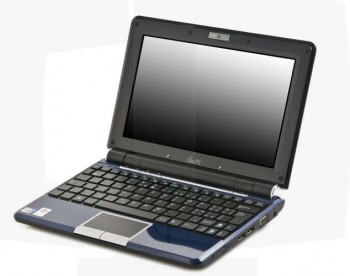 However, there isa part of the Eee PC's that doesn't arrive in Denmark or in Europe for that matter. This time it seems however that there is a great news from Asus Eee PC/Netbook market:
Asus Eee PC 1000HVAsus and other netbook / mini note manufacturers so far have turned on all the same parameters mainly the choice of 9" vs. 10" SSD vs HDD and battery capacity- but rarely have created something that is truly unique, just small improvements over the same theme, there is probably now an Eee PC model emerging which can turn out to be more unique: Introducing Asus Eee PC 1000HV,. The uniqueness of this is the separate graphics card. It means you suddenly can use this Asus Eee PC for some things you have thought was impossible : to name a few like games, and create heavier graphic tasks.  It should of course be taken with consideration, because you still get an eee PC machine with 1 GB RAM and the slow Intel Atom CPU which is found in all netbooks right now, so obviously it is not a ridiculous thing to leave that way, it is still a netbook just to be practical, and everything happens on a small 10 inch.  But you can perform a lot more tasks on an Asus Eee PC 1000HV with its separate graphics card into one can in a generally resembled book including the other Eee PCs.
The Graphics card is also ATI Radeon HD 3450, which is clearly at the low end in performance compared to today's graphics cards, nit it will still be better than the built in "onboard" ("Separate" and integral" should not be misunderstood- Asus Eee PC 100HV will off course also have the graphics card inside the its own RAM, and so on. And not just an embedded chip that sits onboard = on the Eee PC's motherboard and shares the RAM with the rest of the machine.)
With the Asus Eee PC 1000HV you get 256 MB of Ram on separate graphics card and the possibility of DirectX 10.1 and HD material. The other specs on the Asus Eee PC 1000HV appears to be similar to the Asus Eee PC 1000HE for example it is not the slightest machine but a solid machine with no errors or deficiencies ( So you can avoid the "deadly sins" in netbooks like that also saves battery capacity)
Example Asus Eee PC 1000HV comes with 1.66GHz Intel Atom N280 CPU, 160GB HDD, 10.1 " LED- backlight LCD screen, Bluetooth and a 6 cell battery.
It should be emphasized, however that the Asus have not yet announced the official when this will be out on the market, so for now the information comes from a dealer. So far the new Asus Eee PC 1000HV is not a definitive fact yet.
Update: It seems that Asus is saying that the machine is real – but there is a model that will only be sold exclusively to the Italian IT shop Computer Discount. So either you buy from Italy or you have to miss the Asus Eee PC 1000 for the moment.
Source: http://www.computerdiscount.it/ProductDescription.aspx?PrdId=05.AY & PrdP = 449.00
This post is also available in: Danish
Kunne du li' indlægget? Hvorfor ikke lige skrive en kommentar nedenfor og fortsætte samtalen, eller tilføje mit feed og få artikler som denne leveret automatisk til din feed reader.