LG's Eee PC Killer  called LG X110 looks like an MSI Wind – and the rumors also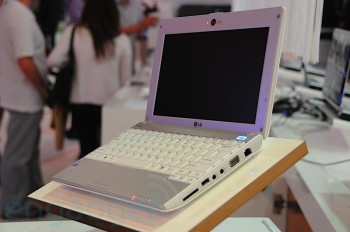 says that MSI stands for much of the production. The specifications also looks like all the other machines, such as the MSi Wind,Acer One and Asus Eee PC 901, which is being trivialized: 1.6 Ghz Atom CPU, 1 GB RAM, windows, 9 or 10 inch screen 1024x600PX. Fortunately LG has been sneaky enough to provide, that it differs from other producers on a couple of points – as suggested earlier : the machine contains both GPS and 3G (HDSPA)- opportunity. This means you can get a 3G sim card directly into the machine and there gain access to the internet via 3G without dongles or other similar things on the thing.
Unlike the previous rumors EnGadget says, only the machine as standard comes with the usual 1 GB of RAM.
This post is also available in: Danish
Kunne du li' indlægget? Hvorfor ikke lige skrive en kommentar nedenfor og fortsætte samtalen, eller tilføje mit feed og få artikler som denne leveret automatisk til din feed reader.