Asus Eee PC 1005 HA is one of the most popular netbooks at the moment.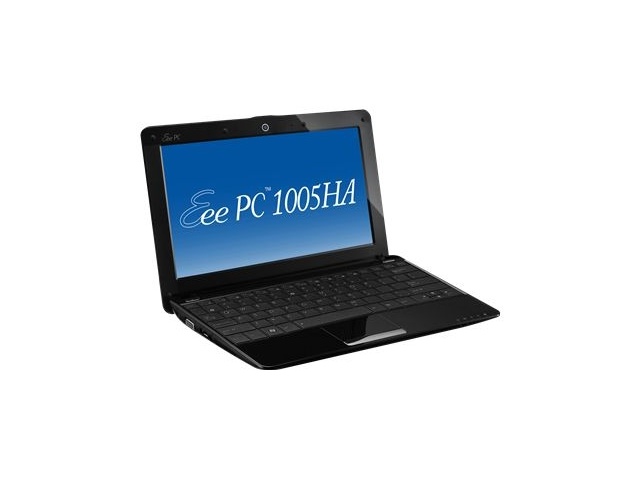 And this is true, for the Asus new "standard" model is a real workaholic at the moment, with its excellent battery properties can run for hours- while it's all wrapped in a stylish design.
When you look at  EDBpriser you may wonder why there is so much difference in the prices of Asus Eee PC 1005HA. The explanation is simple: there are 2 different models of Asus Eee PC 1005 HA on the market and of course 2 different prices, there is 1005HA and 1005HA-H and 1005HA-M, which one should you, choose?
These 2 models have something in common when it comes to design, they are both pretty nice in design, inherited from Asus Seashell Asus Eee PC 1008HA, but somewhat that 1008HA's are up to 1cm more. The keyboard should be better one on  the market and the screen resolution are both on 10"- but with one small difference as shown below. The standard specifications with 1 GB RAM and 160 GB hard drive, they also have in common – yet the hard drive in 1005HA-H maybe a newer type of interface. The connection both the Asus Eee PC 1005HA-H is with 3 USb ports, audio in/out, ehtrenet and a 2 in 1 card reader. Both of course have the usual Windows Xp Hom edition. Although they look quite the same the 2 machines are not identical. See the difference here:
Difference    Asus 1005HA-H    Asus 1005HA-M    Comments
Screen:      Glare              Ordinary      Both is 10" 1024x600, but
                                              1005HA-H er w/blare screen(*)
CPU:        N280 1,66GHz     N270 1,60GHz     Both Intel Atom CPU's -
                                              thereøs almost no difference.
Battery:    5600 MAh         4400 MAh         Both with 6-cells battery,
                                              with 1005HA-H w/bigger capacity.
Bluetooth:  Yes               No              -
Webcam:     1,3 Mpixel       0,3 Mpixel       Both are OK for chat, but 1005HA-H
                                              have better resolution (**)
Harddisk:   SATA-300         SATA-150         Probably not noticeable
Which one should you buy?
The price is difference, today it is approximately DKK 300, incl. VAT and with the small difference I would not be in doubt I would choose the "expensive" model, the Asus Eee PC 1005HA-H. It is with a better webcam, possibly faster Hard Drive and a better CPU that you practically would not feel. Also if you are in need of Bluetooth, then this makes the choice even easier! The selections is however the battery life, it both should be really good to be more specific 10.5 and 8.5 hours for only DKK 300 more. I will certainly choose the one were I get more battery life, which  Asus Eee PC 1005HA-H provides.
Remember that the battery life from all manufacturers should always be taken a great considerations, they can be more misleading for practical users than carmakers km/ liter returns. On the other half it should be easy to squeeze out of machines and by 5 hours and 15 minutes over 4 hours and 15 minutes you get whole full extra hour for only $ 300 which is worth the money.
The only caution is that the Asus Eee PC 1005HA-H model is in my opinion has the glossy design, which of course depends on one's taste – I guarantee there are others who prefer the shiny screen rather than the ordinary dull design.
(*) Personally I have never understood the trick of blank screen!  Yeah that color looks stronger, however I personally prefer the standard monitor, it is easier to use when you are outside or sitting somewhere where there is too much light.
(*) According to some reports both models are with 1.3 Mpixels webcam, but it is not what it says on the EDBpriser!
This post is also available in: Danish
Kunne du li' indlægget? Hvorfor ikke lige skrive en kommentar nedenfor og fortsætte samtalen, eller tilføje mit feed og få artikler som denne leveret automatisk til din feed reader.