This time we are lucky to get a "guest blogger" on the field – named Mary Mainz. Mary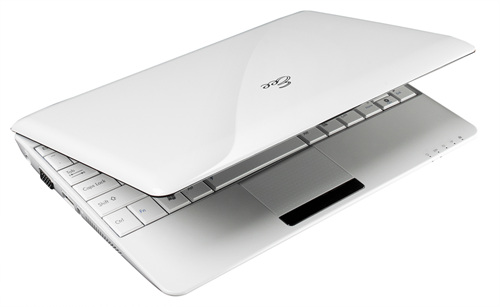 has jus tbought an Asus Eee PC 1005HA-H and therefore needed to make a review of the item,. A friend of Mary also bought an Eee PC 1005HA's  so we have a second opinion to consider here. The beauty of this description is that these people are not technology nerds like many of the reviewers of this site. This makes it very interesting for ordinary people to read a review  of Asus Eee PC 1005 HA and see what a person with non-technical focus as themselves think about the machine.
Here is what Mary writes about the Asus Eee PC 1005HA after using it in a short time:
Package Contents: With the computer follows power, thin black cord, user guide, support DVD and warranty card. Installations are quick and easy, and comes with most common applications which are: Windows Xp, Internet explorer, Office 2007 and so on are pre-installed, so you can make use of the computer as quickly as possible. The appearance is great, it both lives up to my expectations. It's small and nice and just as shiny as the pictures. The shiny surface also means that it can easily get fingerprints markings which are very clear. Furthermore it is very light which makes it very handy to carry around.
The Keyboard has a good size and the few buttons that are omitted from the keypad is very easy to find using the FN button. I am very curious to look at the keyboards because it looks like the letters are stickers. But I hope it sticks and will be visible. In Additional the keyboard also seems a little plastic-like.
The touch pad I fine in size, but you have to get used to the up right surface. And I think the mouse buttons are a little bit too hard to press down, which is very irritating. The built in scroll function (horizontal and vertical) I could not get to work. For the other reviewers it works perfectly and flawlessly, she was also very excited about the features. In additional the build in two-finger zoom function that works well with me while the for the other reviewer find it somewhat difficult to use.
Regarding the battery life, none of us really fully tested it, but we've both had the comuter on for 5 to 6 hours without having it connected to an outlet. The power supply itself is very small and light, which is obviously also a big plus. Performance and speed of the computer has not been disappointing, but we also both chosen to have 1 extra GB ram put in, which probably is the reason (usually provided with 1 GB RAM). None of us have had really demanding programs ran, but the various programs that have run parallel to each other has not lowered the speed and performance, for that reason it has also met my expectations. At one point I installed several programs at once, which meant that I could hear the fan, but otherwise it is very quite and you hardly notice it running. Overall a pretty good machine for school use where the size and battery life is a crucial factor.
-Many thanks to Mary for user review of the Eee PC 1005 HA!
Some interesting considerations above is:
Battery life on the Asus Eee PC 1005HA is so good that the user did not notice it. And it is the most positive thing to say about the battery. For the first cheap 9" netbooks on the market there were people that were often tired of having the computer connect to an outlet after it had been used for only a couple of hours. The keyboard on the Asus Eee PC 1005HA, it might be that it will have more positive feedbacks along the way by many who are "accustomed" to something really rubbish at the very cheapest netbooks. But ordinary users who are use to high end keyboard, it could be of desktop quality from Logitec would be impressed of the keyboard.
The small smart features with scroll and zoom have received different feedbacks, it is not necessary an a endless jubilation they meet with. The look on the Asus Eee PC 1005HA hit the market, both compels, IT critics and user think Asus Eee PC 1005HA is a beautifully designed machine.
Performance on the Asus Eee PC 1005 HA, it's very interesting to see user reviews the quality performance on Asus Eee PC 1005HA, major or minor geeks looks at the performance as the greatest weakness of allnetbooks –  because they are accostumed to minimum quad-core CPU machines (Dual Core is so last year among the geeks) with 2 numbers GB of RAM that is preferably run photoshop, #D Studio Max Skype several types of browsers and palay an HD video in a corner of the screen and Far Cry in another, all together at once while the latest DivX coverted to their iPhone and it can be an Atom CPU that is in almost all netbooks, including the Asus Eee PC 1005HA would simply not help. But for general use display performance of the Asus Eee PC 1005HA is very nice according to this review. ALSO with more"regular" programs running at once. Also the opportunity to upgrade to 2 GB of RAM is a great importance just to have multiple programs running so it sounds like a very sensible thin g to upgrade!
This post is also available in: Danish
Kunne du li' indlægget? Hvorfor ikke lige skrive en kommentar nedenfor og fortsætte samtalen, eller tilføje mit feed og få artikler som denne leveret automatisk til din feed reader.