So there's news about the Danish will launch Acer's clone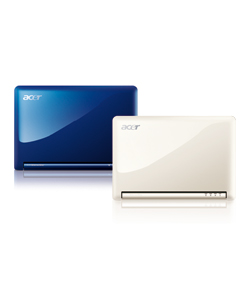 of the competitor's Asus Eee PC :
Acer's model is called the Acer Aspire One, and although I haven't run into the official launching date from Acer, everything indicates that the Acer One will come to the market in mid- September. Otherwise Fona has a launching date on their website.
Acer Aspire One has received a lot of positive reviews around the world and the price also seems t be very competitive, so it must be a machine that is top of the other netbooks.
Fona sell Acer's Eee-clone in colors white and blue with:
512 Md Ram + Linux to Dkk 2.299.-
It is not 100% sure on the Linux version of Acer Aspire One if it will be sold with 8 GB SSD (NAND flash module), or whatever ther will be a choice of disc resolution.
1024 MB RAM + 120 GB HDD + Windows XP Home for Dkk. 2,799, –
This post is also available in: Danish
Kunne du li' indlægget? Hvorfor ikke lige skrive en kommentar nedenfor og fortsætte samtalen, eller tilføje mit feed og få artikler som denne leveret automatisk til din feed reader.