It should be very true, that Asus new 10″- model should hit the Danish markets in week 11:
Asus PC 1002HA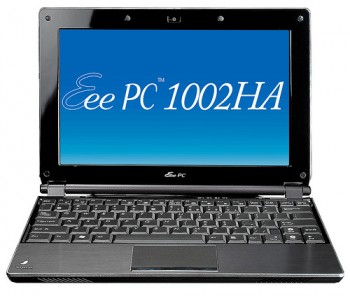 It seems that the Eee PC 1002 HA will be a real winner. It is of course a 10" model, in additional to the standard specs (see below) is spiced with a good battery and a design that is borrowed a lot from the acclaimed design model in Asus Eee PC Series, named Eee PC S101. So nice and probably with a little slimline look with a weight below the Asus Eee PC 1000H.
There are lots of improvements on the Asus Eee PC 1000H except for one thing: the battery. The new battery is smaller and also results in low performance than the old one from Eee PC 1000H. Some sources say it should be a 2 cell battery, that should not be used as an indicator of performance because its 4200 MAH perform better than, let's say 3 cell batteries on the market. In general you should be able to pull out 3 – 3 ½ hours of use out of the machine, although the manufacturer (Asus) always guess high by 5 hours.
The Keyboard was also said to be or become among the best in the netbook market which of course not least due to the size: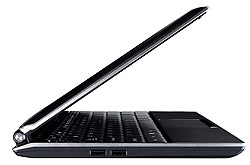 for many 9 " models are simply too small to have a good keyboard. The price Dkk 3700 sounds to very reasonable, and it's going to be everyone's favorite among all mini-notes – good keyboard, good (and large) monitor, reasonable battery life (but not advanced) and a design that truly is a class above all other than S101, which is a bit more expensive in general.
This post is also available in: Danish
Kunne du li' indlægget? Hvorfor ikke lige skrive en kommentar nedenfor og fortsætte samtalen, eller tilføje mit feed og få artikler som denne leveret automatisk til din feed reader.