Now there's a good news for all Eee Box fans and all others who have generally been looking forward to having a perfect Media Center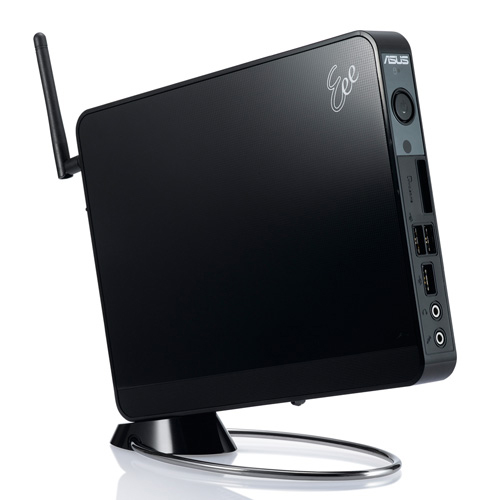 PC: Eee Box 1012 is here!
Compared to the 'old' Eee Box, which had model number 202 and Eee Box since Eee Box and Eee box 204 206, there have been improvements in all areas!
First of all, there is now a discussion of a dual core machine with ION graphics/ chipset. This means that the brain itself, the CPU is now twice as fast as other desktops and netbooks, and where else the 'old' Aton CPUs is used. ( You should be aware that 2 cores are rarely twice as much as 1 and that there are still talking about the Atom CPUs, which then is tremendously slow compared to normal Core Duo CPUs but there is a big improvement over the old Eee Bos and all the competitors) The fact that currently used is ION graphics/chipset which is very important. In most competitive machines are used some what "outdated" Intel board graphics and with this Ion will have a leap.
-By combining these 2 things (Especially since ION can help the CPU in several points) means that the new Asus Eee Box 1012 or Asus Eee Box EB1012 don't know yet the official model number) can manage much more than the old Asus Eee Box. First and foremost this is very important to know when you are planning to use the Eee Box as a media center! Furthermore, they have doubled the memory from 1 GB to 2 GB with the option to upgrade to 4GB total (2 RAM slots).
And the new Asus Eee Box EB 1012 is in fact a perfect media center! The old Eee Box 204 and Eee Box 206 was also excellent in many ways for media center because they were small and quite ( is it really quite?) It had one flaw though: It was very difficult to get them to play HD movies with it had to stutter or make frictions of the movies.
The small HD resolution could work and though some geeks reported that it was possible to get them to play bigger HD resolutions as well, so it was still something that took too much hacks and tricks. It should be a thing in the past – with dual core Atom CPU and ION should Asus Eee Box EB1012 be ready to  themselves through movies in full –HD.
So it must be official that the Asus Eee Box EB1012 is the perfect media center. This means that you can connect the box with your flat screen TV because there are both S/ PDIF 5.1 out of sound and HDMI connectors. The small size and the power consumption are also important parts on the front. All you need to be aware of is that you (unlike some old models) usually don't get a remote control, keyboard and mouse with the Asus Eee Box 1012, so please look for a package that has al l the accessories included or you can buy it separately. You have to expect that usually it is not included, so you have to be aware of that. My advice to you is that you also have to notice how big the hard drive is in your Asus Eee Box HB1012 and what the operating system it comes with.
Asus usually include the OS Windows Vista Home, which will be very helpful. Here you should try to get the box with Windows 7 (or free upgrade to Win 7) before you order Asus Eee Box 1012TH also coming hard drive space from 160 GB to 250GB, you have to make sure you get the big one, or at least consider it when you are comparing prices on Asus Eee Box 1012/ Like the old Asus Eee Boxes and all other machines in the same category, I have come across there is no DVD drive in Asus Eee Box EB1012. So if you are addicted to DVD discs, you have to wait a little longer. Asus Eee Box EB1501 is coming soon and this model has the DVD drive.
Let's take a look at the Asus Eee Box 1012's specifications:
OS: Windows ® Vista Home Premium – maybe Win 7?
CPU Intel ® Atom N330 Dual Core
RAM 2GB of RAM (up to 4G) DDR2-800
HDD 2.5 "160-250GB
Chipset NVIDIA MCP7A ION
Graphics NVIDIA ION
LAN 10/100/1000 Mbps
WiFi 802.11b/g/n
Connectors / connections
Card Reader (SD / SDHC / MS / MS Pro / MMC)
USB x6 Total
Headsets
Micorofon
eSATA
Wi-Fi antenna
Gigabit Lan
HDMI Out
D-Sub
Audio out (S / PDIF Out) jack
Power supply 19Vdc, 2.1a, 40W
Dimensions 222mm (W) x 178mm (H) x 26.9mm (D)
Weight 1.1 kg
Colors White or Black
The machine should come to the country in 42 weeks – ie. this week ..
Read more at ASUSTek
This post is also available in: Danish
Kunne du li' indlægget? Hvorfor ikke lige skrive en kommentar nedenfor og fortsætte samtalen, eller tilføje mit feed og få artikler som denne leveret automatisk til din feed reader.