We are once again lucky to have a user kind enough to make a review for his new Asus Eee PC 1008HA.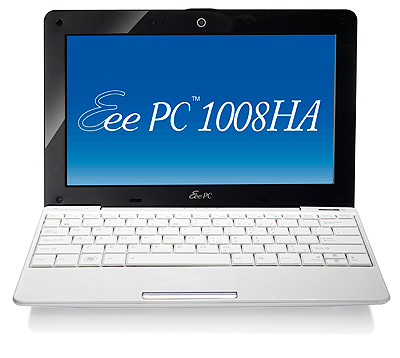 This time it's Martin Santon by the keyboard:
"So I finally received my Asus Eee PC and it was a 1008 HA model that you have heard from me lately. And I'd like to say some few quick words now I haven't had long but I have a pretty good impression on it already, by the design which most wonderful I have ever had in my hands. Everything just fits together in one large unit.  The keyboard is great (92% of normal size) and it also work very well when I have to write a lot, like right now. I don't make any mistakes on the keys. And beyond that, I have tried both to surf on the net and tried a few flash games on the web and also downloaded some small files – everything works out perfectly. I could not be happier with this small machine, after the minimum time I have used it.
I don't know if whether in the future there will some things that are not so good or some things that are better (for example, I have not tried the Microsoft Office or the webcam and so on. ) but I promised to write a review here on the things I find and experience on this unit.
I think at least that the Asus Eee PC 1008ha is fabulous to use so far and although it is only 6 hours battery life, it fits me extremely well and the brilliant appearance is 100%. Regarding the battery, I have to try to use it without connecting it to an outlet and see how long it lasts.
There's 3 power features that Asus has set available.
Super Performance mode
High Performance mode
Power Saving Mode
What I'm going to use probably is the power saving modem I will probably be back soon for the review. The 2 other modes will probably take a longer time for me to make a review.
I hope it can be used for many things. I am certain that I will still be impressed no matter what hehehe.
Best Regards
Martin.
-Many thanks to Martin for his review on Asus Eee 1008HA!
Asus Eee PC 1008HA is, by the way the thinnest model in the HA line here, so a slimmer model than the Asus Eee 1005HA. The first lighter weight and cooler look, but obviously at the expense of battery life. It depends on what you prefer; it depends on your preferences and particular situation.
Here is a picture that shows the difference in thickness of Asus Eee Pc 1005HA vs. Asus Eee PC 1008HA: http://www.newgadgets.de/wp-content-uploads/2009/05/eee-pc-1005HA-vs-eee-pc-1008ha-1.jpg.
You can read more about the considerations about the choices of netbook model here: http://www.eepc.dk/kort-nyt-ha-overtager-hele-markedet/ and here: http://www.eeepc.dk/valh-af-eee-pc-1005ha-model/
This post is also available in: Danish
Kunne du li' indlægget? Hvorfor ikke lige skrive en kommentar nedenfor og fortsætte samtalen, eller tilføje mit feed og få artikler som denne leveret automatisk til din feed reader.