From next Wednesday Aldi has an Eee PC clone of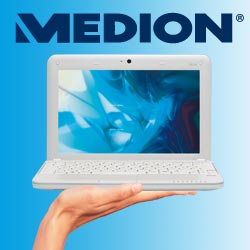 Medion Brand on sale for Dkk 3.000. Everything looks promising. Specs recalls clearly more than the MSI Wind Asus Eee PC 900  , since there is a bigger screen, HD and RAM than the Eee PC's on the market here at home. The machine comes with Windows, and the price is lower than 500, – with the MSI Wind same price as the Asus Eee PC 900 with Windows preinstalled, so it looks like it is a good buy.
The only draw back that catches the eye is the lack of Bluetooth – at least for me since my plan is to run 3G over the phone rather than a special dongle for the purpose. I haven't gotten that far yet since 3 is a bit slow on delivering a HTC Touch Diamond.
But you need a little machine with more HD than the Eee PC 900 – and is indifferent to the SSD ( Which has the advantage of being more shock – resistant that is on the Eee PC, you can buy her at home), so could Medion machine be a sensible offer.
See it here http://aldi.dk/OFFER_DK_COMP/OFFER_32/OFF01.SHTML
Asustek alunches an external wireless controller that will be
sold in sets of supported games with selected models of the Eee Box or ultra- portable Eee PC, just as the wireless controller for Nintendo's Wii, Asus Eee Stick as a "Motion Detector", it means that you just don't  get to press buttons to be registered, but also (primarily) the movements you make with your hands.
Asus personally believe that the Eee Stick is suitable for sports games, games where you have to sight (FPS) and games where you have run to the sides such as aircraft or racing games. This somehow corresponds to all the popular games from Wii and uses all types of movements that the Eee Stick can detect, so it's probably not too far off.
With the 2 batteries to use on Eee Stick you can play on your Eee PC for 72 hours. Eee Stick comes with RF dongle that should be plugged into the Eee PC, Bluetooth would have been a better choice in my opinion, but obviously it's not something you need to have connected to the PC all the time. And RF (Radio Frequency) has at least a much better range and stability than the IR (infrared).
Asus "admits" that besides the Eee stick is more suited to the Eee PC than any other computers – the important thing is that the games are designed for it.  So there's probably more talk about Asus has seen a chance to take a bite of Nintendo's Wii's market and just used their new Strong Eee to shopot on it's operation.
Source: http://www.asus.com/news_show.aspx?id=12328
I stumble over a Danish review of the Asus Eee PC 1000H – which is the "biggest" Asus Eee PC in any many ways right now.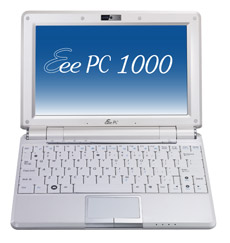 The opinions regarding the Eee PC 1000H – not because of the specifications, which are excellent, but because the machine is after a while getting heavier and bigger (10 inch screen and 1.45 Kilo) that some believe that it no longer forms a UMPC/netbook/mini-note but is more like an "ordinary" subnotebooks. Personally I think netbooks should be 11 inch and should weight under 1.5 kilo. (several other netbooks will come close to this limit in the future) but it is not exactly a fixed definition.
1000H can be bought in Denmark right now, but it must be imported from for example UK. (it is a good idea to get your machine back from EU-countries – so you will not have to handle the hassles with the custom tax. If you want to but it from USA you can get both duty and VAT included. I am not quite sure how much it will cost you on tax when it comes to electronics/computers – it can be somewhat from 0-30% – you have to research that on your own, if you are not satisfied buying form EU- countries.
Read the positive full review on Tweak Up.
So there's news about the Danish will launch Acer's clone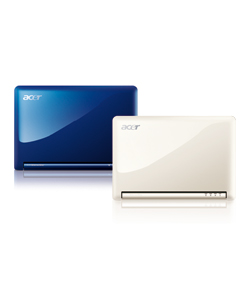 of the competitor's Asus Eee PC :
Acer's model is called the Acer Aspire One, and although I haven't run into the official launching date from Acer, everything indicates that the Acer One will come to the market in mid- September. Otherwise Fona has a launching date on their website.
Acer Aspire One has received a lot of positive reviews around the world and the price also seems t be very competitive, so it must be a machine that is top of the other netbooks.
Fona sell Acer's Eee-clone in colors white and blue with:
512 Md Ram + Linux to Dkk 2.299.-
It is not 100% sure on the Linux version of Acer Aspire One if it will be sold with 8 GB SSD (NAND flash module), or whatever ther will be a choice of disc resolution.
1024 MB RAM + 120 GB HDD + Windows XP Home for Dkk. 2,799, –
Expert- chains are on its way with Asus Eee PC 701 –

which was the first Eee Pc on the market. It is smaller and cheaper but of course it is more stripped. The screen to be exact: the original Asus Eee PC was only 7 "display with 800 Pixels width. Most website today is optimized with 1024 pixels width therefore it can be a problem with the irritating horizontal scroll bar.  There is still hope for it to be solved.
Since I have had much success using the Opera Mini Java Browser on several of my phones, it suddenly occurred to me that you should be able to use the same browser on the Eee PC 701 and the first great advantage of Opera Mini is that is really good to compress web pages, you can watch them, as they appear and designed, but zooming down so you can see them on a much smaller screen that they originally made for.
You can easily in on a certain area and view a enlargement for example like texts so you can easily read it. For example on iPhone and HTC Touch Diamond.
After a little research on the web, as a result I am not the first to get this idea. Check it out here, how to do it.
http://java4me.blogspot.com/2008/02/run-opera-mini-on-pc-version-06-also.html

It a guide how to use Opera Mini on Windows, I haven't tried it myself. So don't hesitate to tell me if you have tried it.
Yes, the cryptic title refers to,that

Asus' online storage solution for the Eee PC and Eee Box is launched, and everything indicates that it is a great resource for all Eee owners. Partly the solution will be very reasonable, having reportedly will be a solution where the Eee Storage appears as a drive with the hard disk, etc. – That is really easy to handle. However, I must say that the website seems quite unfinished so far ..
It is going to be a good cover for resources that it becomes nothing more than an online storage solution for Eee owner.
Apart from the introduction comes the solution to contain firmware and updates, tutorials, bonus packages with wallpapers and stuff and various other useful pieces of software. So to have "everything" Eee-related lying in one place sounds attractive.
Besides it is also an opportunity for Asus to share in the market with software sales and "media" sales, if the platform over time can develop over time into a kind of iTunes (which also handles updates to iPods, etc.) to Eee users. It says that Eee- brands seem to give opportunities for Asus to move forward into some new markets…
End of a cryptic Eee post. Good weekend here.
So Asus is once again on the track with a handfull Eee Pc models.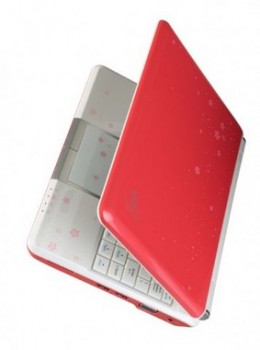 It is uknown if they should come to the Asian Market.
There's not much under the sun – it is Eee Pc's with 9 inch screen, 1 GB RAM or either 16-16 GB SSD or 80GB HDD..the new 4 models will have win XP. The model names will be Asus Eee PC 1000HD XP, 904HD XP, 900 XP (16G) og 901 XP.
Asus Eee PC 904's is the only model number which hasn't been used before – but it could be on it's way.
It looks like a picture has slipped aout from Asus machines, it shows new creation on the front colors. The last previous model names is for any reason included in the news, but it's not exactly news, it means that the model names have not been with XP eventhough Asus Eee 900 could have XP installed, as far as I know. WTF!!! If it really is a new model name, it must come with different colors – but then it won't be the sharpest teeth in the sea. Asus has made up the name Eee model names…and there more Asus Eee Pc to come, eventually they can't find out which is which.
Read for yourself about the latest Asus Eee PC's with SlashGEar
Dell has (like all the other PC manufacturers) plans to take a bite of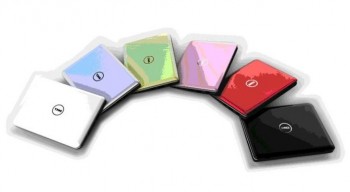 Asus Eee PC/ netbook market. Their bid is Dell E. I won't even comment, but I quote from Engadget "Eeenteresting" for the name choice.
The Specifications are as good as (and after a while much boring) as all the other netbooks- 8.9" TFT display at 1024 x 600 ½ or 1 GB of RAM and SSD. Dell wrote that the machine comes with Intel Diamond Ville CPU, but you should not get confused- Diamond Ville is just a code name for Intel Atom- which is exactly found in the MSI Wind and Asus Eee PC 901. Other details, it's the details that separate the machines from each other, which is in the market right now. Dell separates a bit from the other competitors, depending on what model you choose: Bad webcam (only 0.3 pixels), a battery that resembles between the existing poles, which is 4 cells (most netbooks are with 3 or 6 cells so far) Bluetooth and WiFi are included – and as an interesting variation, all the indications that the machine can be selected with WiMax support, if you are into stuff like that. In additional Dell Eee- clones comes with quite few different colors.
The most interesting ( and the thing that really separates Dell's Eee – clone) is that Dell may be coming up with BlackTop- which is a SplashTop clone (perhaps they should come up with better names, so cloning is a little less obvious) SplashTop is (almost an instant on) operating system that quickly gives you access to the simple functions after starting it, such as Web Messenger, Skype and email. You see it will be a very welcoming creation.!
For whatever reason (price reduction?). Asus has not included it in their current Eee PC's – however it is in the Asus Eee Box. We should keep in mind that Asus can manage t launch mew models faster than Dell, and finally Dell will launch their new model in September, therefore the speciofications is no tyet exactly defined. So if Asus sees it as a threat, there will soon come an Asus Eee PC 907 SplashTop – Edition netbook on the market.
Dell's upcoming series is also 2 fold, as they also have plans to launch portable 12 – inch Dell E Slim – but then we are out of the netbook market and even in a more traditional (probably very thin) Subnotebooks.
Well welcome to Dell: more Eee – clones are coming up from the drawer from all netbook manufacturers. The advantage is there is an increase of competition, and you can have your upcoming netbook from your usual favorite brand. Hopefully there will be soon who will find a variety- with a better screen resolution than the ordinary? Although the market is first booming now, there's been micro- portable advanced in many years, so it should be possible to find something new instead of just cloning the Asus Eee PC…
I fell over this comparison of UMPC's in sunlight.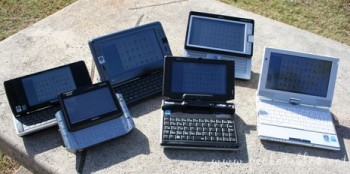 Unfortunately, the Asus Eee PC, MSI Wind and Acer is not one of them – so it's not that interesting. But are you in a purchasing thoughts on UMPC market and want something stronger than our dear, small netbooks, it might be interesting for you then to check the possibilities for outdoor use here.
http://www.pocketables.net/2008/08/umpc-display-co.html
UrbanMax is as far as I can resolve myself on a conceptual base,
Intel's bid for a future laptop that can go into production now. There is a talk about a form of a tabletPC with 11" screen 1366 x 768 pixels, Core 2 duo Centrino2 CPU, Windows Vista preinstalled and a sliding keyboard, so it transforms from a touchscreen PC to a netbook a.k.a Eee PC killer.  You must give the audience right it could resemble a combination of the goods from old Compaq/HP tablet PC's and HTC X7510.
The user interface lloks very cool but check out the video here.
[blip.tv ?posts_id=1195257&dest=-1]